Blondie Talks About 365 Days of Inspiration
As you read Blondie Talks™ you will come to know with certainty how to embrace and apply the following core principles in your life and work. You will discover how to renew your spirit and inspire the potential that lies within!
Inspiring the Potential Within is based on 5 eSSential principles:
There is no joy without the journey
There is no hope without believing
There is no mountain without the valley
There is no happiness without forgiveness
There is no success in going alone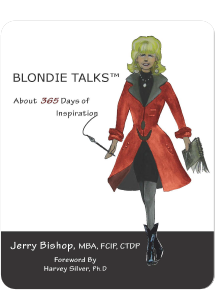 Testimonials
"Blondie Talks™ presents the reader with a brilliant cafeteria of inspiring, insightful and easy to comprehend concepts to help us navigate more serenely in our voyage of life. While you may see the thorns in your rose bush, Blondie Talks™ will help you see the rose"
- Dr. Harvey Silver, Organizational Psychologist and Human Resource Management Consultant

"It's been said, 'What you think about is who you become.' Why not give yourself a head start tomorrow morning with Blondie Talks."
- W Mitchell, CPAE, International Key Note Speaker, Author & Triumphant Victor