Making Compliance Happen
It pays to leave your Ministry compliance requirements with us! Navigating and enabling compliance can be complex. Business Assessment Solutions can help you navigate the maze and make compliance happen.
e
SS

ential

Curriculum Toolkits

eSSential Curriculum Toolkits for Sale – Curriculum, Customization, Compliance
Salon, Spa and Wellness Management eSSential Curriculum coming soon
A Roadmap to Success
You've invested a lot into your private career college, and you want to ensure that your institution is providing your students with a solid foundation in adult education as well as the necessary tools to prepare for their next career move.
This is important to your career college because you know that doing this will not only help your students, but will provide an incredible learning experience for your students—success in these areas is what will distinguish your educational institution from the rest. In addition to keeping programs up-to-date and meeting the educational needs of the changing economy, your career college also has the responsibility to be compliant across many mandated areas and also meet the legislated requirements to operate as a private career college in Ontario.
This means ensuring your career college adheres to the Private Career College Act. Understanding and meeting ministry requirements can be complex, demanding of your time and a lengthy process that can delay in advertising your programs and filling classrooms. Business Assessment Solutions Inc. can help your career college navigate through the maze with these eSSential services, so that your career college can focus on what you do best—providing quality education.
Consulting Services
Application Audit Review
Inspection Audit Review
Coaching for Compliance
Curriculum Design
Legacy Programs
Third Party Assessments
Program Applications
Program Changes
Program Renewals
OSAP Application
New Campus Application
Program Renewals
RICC Deficiencies
RICC Entries
Program Renewals
Professional Development/Leadership Training
RICC System Coaching and Training
Making Compliance Happen!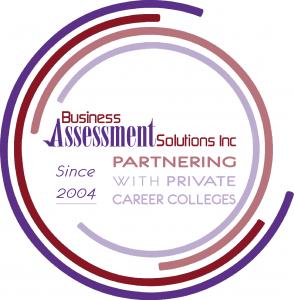 Testimonials
"We are a Private Career College that has been operating for over 30 years. We considered ourselves a good school; we needed help to re-create our programs in compliance with the Ministry of Colleges and Universities. This project was overwhelming and consumed our time and made it impossible to do the day to day functions that have to be fulfilled in order to keep our school running...We now consider ourselves a great school!"
- Joanne Vachon, Owner/Administrator, Career School of Hair & Nails
Proud Member of Career Colleges Ontario